Scottish stores are on a path of growth as shown in the latest independent convenience market figures from SmartView Convenience from TWC Group revealing a strong performance for Scottish stores.
The market read – which comprises a reflective sample of 5,000 independent retail and wholesaler-supplied symbol stores in Great Britain – has shown that value sales for Scotland in the 52 w/e 30 July 2023 were +4.6 per cent higher than a year ago, which is ahead of growth in total GB.
The strongest performing categories in Scotland over the period were crisps, snacks & nuts (+21.4 per cent), chilled (+18.5 per cent), confectionery (+15.2 per cent) and soft drinks (+10.9 per cent).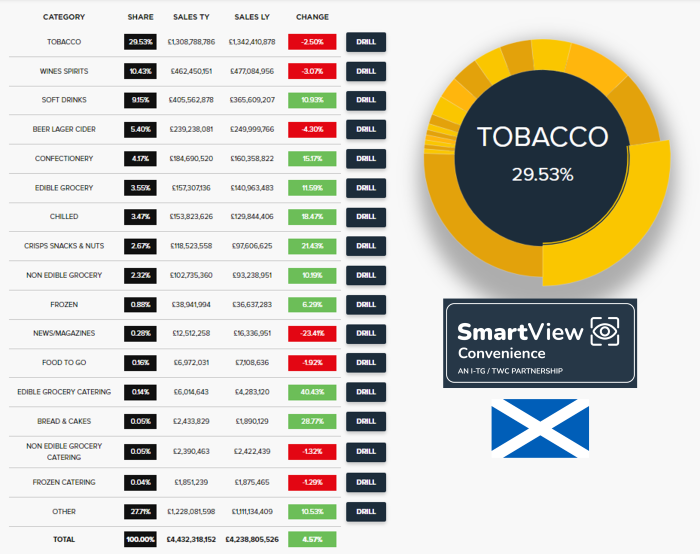 In a separate consumer study, commissioned by TWC, 800 Scottish consumers were asked about the role of local independent convenience stores in their community. The top response was 'being open and available when consumers need them', followed by offering jobs to local people. Scottish consumers also recognised the importance of independent convenience stores in maintaining a community spirit in the area. The next responses recognised the efforts of retailers to support their customers by trying to keep prices competitive and by offering good deals, offers and promotions.
Commenting on the results, Tom Fender, Development Director at TWC, said:
"Data from SmartView Convenience confirms that the independent retail sector in Scotland is robust and there is plenty of room for optimism given that inflation is now beginning to fall and consumer confidence is rising. Consumers recognise the importance of their local store and continue to support these businesses, which they see as an important part of their local community."