New research from digital and data experts TWC has revealed that 49% of consumers want to make sustainable choices but are not willing to pay more for this benefit.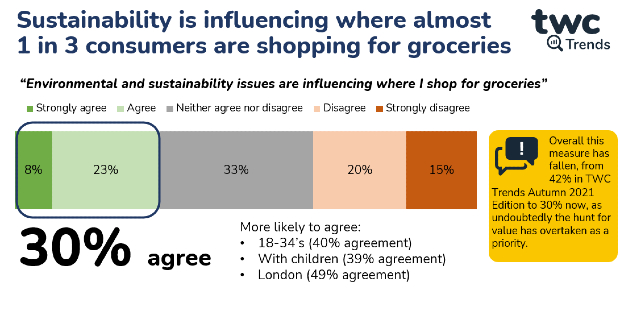 Meanwhile the majority expect businesses to be focussed on sustainability and their environmental impact.
The TWC Trends research was conducted in June 2022 and indicated that sustainability is increasingly an expectation, with 57% of consumers agreeing that they "expect all companies to be focussed on sustainability and their environmental impact". Over half of consumers agreed that "food retailers who don't take environmental issues seriously are likely to lose out in the future".
Sustainability is influencing where almost one in three consumers shop for groceries, but this represents a fall from 42%, reported in TWC Trends Autumn 2021 edition, undoubtedly as the hunt for value has overtaken as a priority.
Consumers had mixed views on the environmental impact of shopping at convenience stores, with 35% agreeing that it is better for the environment, 20% disagreeing and the remaining 45% unsure. However most agreed that convenience stores could do more to demonstrate their sustainability or environmental credentials.
Sarah Coleman, communications director at TWC said: "Sustainability is increasingly an expectation – rather than a point of difference – and consumers are expecting businesses to take the lead.
"Whilst 30% say that environmental issues influence where they shop for groceries, a far bigger proportion (57%) expect businesses to be focussed on their impact. The bottom line is that only half of consumers are willing to pay more for sustainability benefits and this is likely to be further squeezed with the cost-of-living crisis, as value is further prioritised."
"For convenience stores, we believe there is an opportunity to talk about the benefits of shopping at smaller stores, for example the fact they are commonly visited on foot; little and often purchasing resulting in less food waste; supporting the local economy and in some cases local suppliers. Consumers agree that convenience stores could do more to demonstrate these benefits and so it would be pushing on an open door."
The TWC Trends Summer Edition 2022 series is based on the views and sentiments of over 1,000 consumers across the UK