New research from TWC, in collaboration with The Federation of Wholesale Distributors (FWD) has shown that independent c-stores are aligned to the convenience multiples on base pricing, but deep discount loyalty card promotions are making it increasingly difficult for the indies to compete on price.
Audits conducted by TWC show that prices have increased by +11% in independents, +13% in Tesco Express and +17% in Tesco supermarkets in January 2023 vs. November 2021 (based on a list of more than 70 products sold in all 3 outlets).
The price differential between the independents and Tesco Express has fallen because prices have risen more at the multiples, and at the time of the audit in January 2023, there was price parity between the two.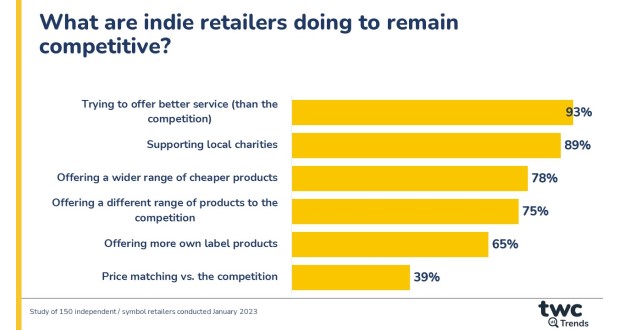 However, Tesco are using their 'Clubcard Prices' within their convenience format to offer discounts of up to 35%, making it hard for independent convenience stores to compete with the multiples on price.
Independent retailers are not resting on their laurels, they are fighting for their share of local trade and pulling a number of levers to do this. Phone interviews with 150 independent and symbol retailers revealed that 93% were trying to offer superior customer service and 89% were supporting local charities and initiatives.
Many are also trying to compete on price, whether that's by offering a wider range of cheaper products (78%), more Own Label (65%) or price matching vs. the competition (39%).
Tom Fender, development director at TWC said: "We have a hypothesis at TWC that independent retailers believe the PMP is the promoted price. Base pricing in our audit shows that PMPs are working to create a parity on price, however encouraging tactical promotional activity as well could be a big win for the retailers who are not already doing this."
"Promotions can encourage a number of behaviours – from driving footfall; increasing spend once shoppers are in store; trialling categories they didn't intend to purchase; and encouraging trade up to better and best tiers."
"Our research evidences who is shopping in the independent convenience channel and it is not necessarily driven by cheapest on display – the shopper is NOT lower affluence and therefore these stores do not need to be the cheapest all of the time.
"Indeed, the most cash strapped consumers may well be avoiding the convenience channel altogether in favour of the discounters. We also know that households shopping at these stores are likely to be time pressed.
"We believe there must be a strong EDLP offer to drive loyalty and encourage shoppers to visit habitually, together with tactical promotions with clear objectives."
More detail about the research, conducted on behalf of the FWD, can be found here.