"Staples" and "treats" are driving the recovery in food-to-go post pandemic, states a recent new research, highlighting a year-on-year rise in "something quick" and "easy to eat" categories.
Cakes and pastries, crisps and nuts, sandwiches, savoury pastries, breakfast foods and hot and cold drinks all showing growth of 20 percent+ YOY (value), states Meal Trak Wave New data by TWC.
Consumer missions are becoming more "compartmentalised'" states the report, adding that treats (+52 percent latest 52w/e) have performed strongly through the pandemic. Health, which was an increasing focus through Covid, is increasingly reflected in FTG missions (+19 percent).
Meanwhile, current economic pressures have seen year-on-year rises in "something quick and easy to eat" (+15 percent) and "something not too expensive" (+4 percent).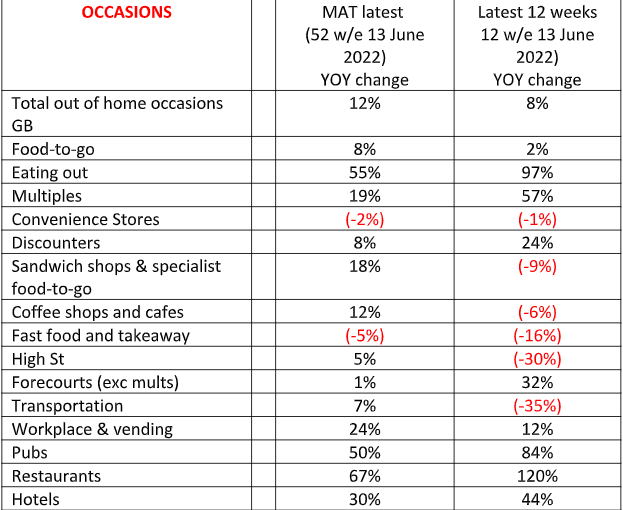 Data by Mealtrak and TWC
Commenting on the results, Tom Fender, Development Director at TWC, said, "The latest MealTrak data reflects the continued recovery of the eating out sector (restaurants, hotels and pubs), supported by a modest increase in food-to-go, most notably in the multiple grocers over the last 12 weeks. We are seeing fast food and particularly takeaways – which significantly benefitted from the lockdowns – beginning to fall back."
"With increasing pressure on household budgets due to  rising bills and food inflation, we anticipate that channel performance could change quickly. Whilst the eating out sector is currently seeing the strongest growth, its performance is based on poorer comparatives from last year. Meanwhile, food-to-go may well see growth in the coming months as an affordable treat."
Forecourts are rebounding well – with a 32 percent increase in occasions in the previous 12 weeks compared to 2021. Convenience stores continue to struggle vs other channels.
Sandwich shops and coffee shops/cafes have gone into decline over the last 12 weeks (they were in growth last month), joining fast food and high street as the channels in decline.