Over half of consumers are reducing their spending to pay their bills, states a new study, highlighting how consumers are buying fewer treats and trading down the groceries as the cost of living soars in the country.
According to TWC Trends research conducted in June 2022, 42 percent of consumers are buying fewer treats in a bid to reduce their spending. Two-thirds of consumers are using at least one tactic to cut back on grocery spending, with trading down on product choice the next most used strategy.
In the research, 53 percent of consumers agreed that they were having to reduce their spending to pay their bills; with younger consumers and those with children in the household most likely to be feeling the pinch. There continues to be a divided population,
with 24 percent of consumers disagreeing with this statement, particularly consumers aged 55+.
Also, convenience stores are holding up well, with more than half of consumers saying their usage of the channel has stayed the same. Whilst 15 percent said they are using c-stores less than 6 months ago this was balanced out by a similar proportion who claim to be using them more. Just under a third of consumers (29 percent) said they were opting to shop for groceries in cheaper stores, which aligns to a similar proportion saying they are shopping in the discounters more than they were six months ago.
Consumers are also changing their behaviour to manage their eating out spend, by reducing frequency and/or reducing their spend, for example by choosing cheaper outlets, having fewer courses or not drinking alcohol out of home.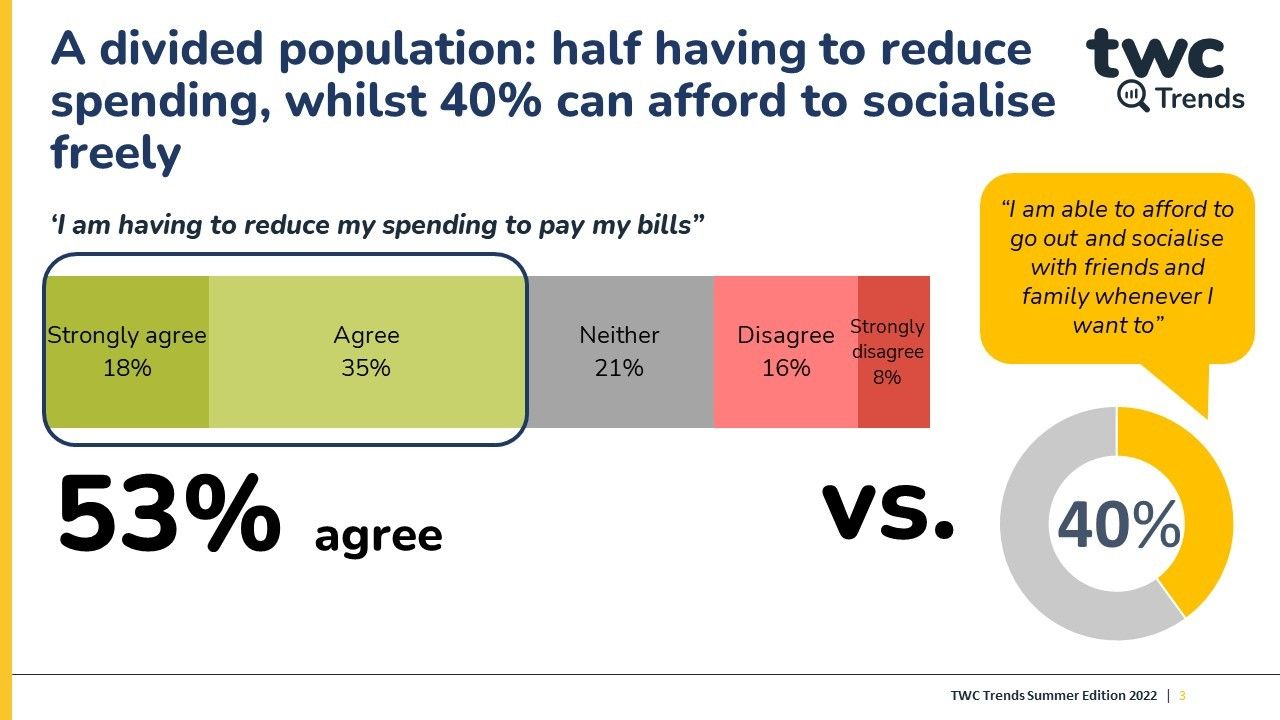 Consumers reported that they are making cutbacks across both grocery and discretionary spending, with the reduction in treats coming out as the top tactic, with 42 percent agreeing that they are doing this. Trading down by buying cheaper groceries was next, with 40 percent agreement; followed by reducing other retail spending such as clothes and homewares (39 percent); and fewer days or evenings out (31 percent).
Sarah Coleman, Communications Director at TWC comments: "It is really reassuring to see that convenience stores are continuing to prosper despite the current pressure on prices and household budgets.
"Beneath the surface we are seeing an interesting trend with consumers in London more likely to be increasing their use of convenience stores– reinforcing the role smaller stores play in cities as well as rural communities."
"We are also seeing younger consumers and those with children are more likely to be increasing their use of c-stores. Given that we know that these consumers are more likely to be under financial pressure, convenience stores need to ensure that they offer value to retain these customers. One potential route is through price marked packs – which are particularly liked by these consumer groups – but must deliver a fair return to all parties along the supply chain to be viable."
The TWC Trends Summer Edition 2022 series is based on the views and sentiments of over 1,000 consumers across the UK. The research was conducted 14-18 June 2022.